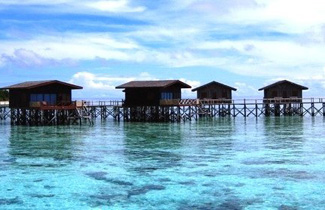 Pom Pom Island Dive Resort is a luxury island resort built on a private tropical island of the Celebes Sea.

Pom Pom Island Resort features luxury Beach Front Villas, Water Villas and Garden Villas which are built in a traditional and eco-friendly way.
The villas offer the following amenities:
Air conditioning
Private balcony
Ensuite bathroom
Ceiling fans
Hot showers
Hair dryer
Beach towels
Complimentary coffee and tea
Situated in the heart of the Coral Triangle Pom Pom Islands waters are well known their biodiversity, sea turtles along with being a macro-lovers paradise.
The island is a nesting site for Hawksbill turtles and Green turtles. End of april until the month of August are the months during which turtles nest, and those visiting during those months can join the turtle patrol organized by Pom Pom Island Resort to watch the nesting activities of turtles.
Scuba Diving
Pom Pom Island Island offers access to more than 20 dive sites with protected coral reefs and islands such as Pom Pom, Mataking, Timba-timba, Kalapuan, Baturua, Mantabuan, Bohaydulong, Batarua Reef and the Tun Sakaran Marine Park. Diving at Sipadan is also possible, also it depends on availability.
Pom Pom Island is a licensed PADI 5 Star Dive Centre offering diving courses from begginers to more advanced levels.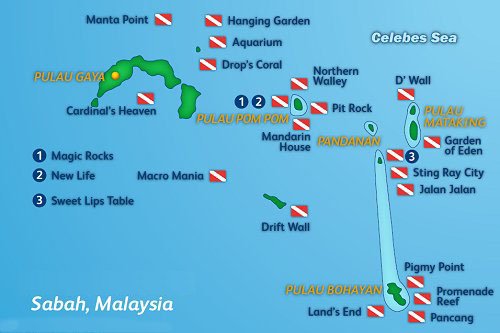 Calyx Restaurant
Delicious traditional cuisine (Malay and Chinese) along with western food is served at the Pom Pom Heart, a beautifully designed open air restaurant.
There is a bar area perfect for a glass of wine, beer, cocktail or a cup of Italian coffee.
Yin & Yang Spa
The Yin & Yang Spa offer a wide range of massages and treatments specially designed to indulge your senses.
Other Activities
Introduction to Scuba Diving
Snorkeling & Swimming
Sea Kayaking
Games room
Pool table
Beach Volley
Football
Bicycling
Jogging
Nature trekking and picnic lunch at nearby Bohaydulong Island
Yin & Yang Spa Treatments
Introduction to Scuba Diving
WIFI Internet
Sea turtles laying eggs
Note: Please book for Sipadan long in advance.

Customer Reviews & Ratings

"Appart from the fact that they don't have Sipadan permits, I would strongly recommend Pom Pom Island Resort as we had the most wonderful holiday there. I remember most the professionalism of the divemasters, and the helpfulness of the resort staff. I stayed there for 4 days and then moved to Mabul island near Sipadan which is excellent for diving." Mickael Lee , Singapore
"Pom Pom Island had everything we needed, the staff were efficient and polite, and the food was delicious. We stayed in a water villa with wonderful views of the Celebes sea. We could swim and snorkel just in front of the villas, especially at high tide. The island is small and you can walk round. We thoroughly enjoyed the snorkeling trips we had to adjacent islands." Phaibun Songprawati, Phuket, Thailand
"Excellent value for money. We stayed at the Beach Villa and the view was superb. The service we got was excellent and the food they provided (buffet style) was very good. We were lucky enough to stay for 3 nights at this wonderful place. But it is built in a place with amazing natural beauty. And the comforts the resort provided fully complemented it." Annette Schwartz, Kuala Lumpur, Malaysia
"Prtivacy, relaxing, and paradise are the words I would use to describe Pom Pom Resort Island. The place is ideal for a family vacations and even for honeymooning. We snorkeled with sea turtles which was beautiful." António Álvares, Lisboa, Portugal
"This island is like a jewel. The Garden Villa, in which we stayed, gave us excellent views of the garden. We went to Pom Pom mainly for snorkeling. There were 3 kids in our group and we opted for half-a-day snorkeling sessions. The crew was very very helpful and did all that was necessary to get things in order. Other units like the office and the restaurant also provided efficient service. The staff were so keen on providing us the best that they woke us up late at night to show the egg-laying ritual of a turtle. We watched in amazement as the turtle first dug a pit into which she eased herself, then dug an egg chamber into which she laid160 eggs, and finally covered the pit with sand. There were no security concerns since either police and guards were present everywhere, even on the boats that took us for diving and snorkeling. " Madison Kennedy, Cape Town, South Africa