Kapalai Resort is a luxury water village built on stilts over the sandbanks of the Ligitan reefs and located only a few minutes by boat from Sipadan and Mabul islands.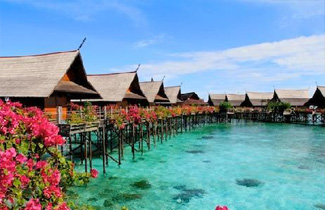 Popular for honeymoons and weddings, Kapalai Resort's fifty elegant and spacious wooden chalets each offer ocean view balcony with total privacy perfect for sunbathing or watching the marine life just a few feet below.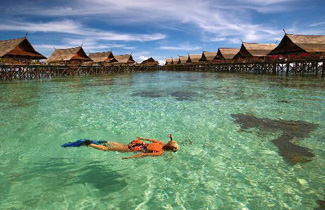 Scuba Diving
The underwater scenary at Kapalai is totally different from the one seen at Sipadan. Indeed some of the world's best dive sites for macro and tiny underwater life are located just under the resort, accessible just by swimming from the dive center pier.
Just to name a few local marine species: flamboyant cuttlefish, mandarinfish, blue ring octopus, dragonets, giant frogfish, gobies, leaf fish, scorpionfish, gurnards, crocodile fish, giant moray eels, rays, turtles.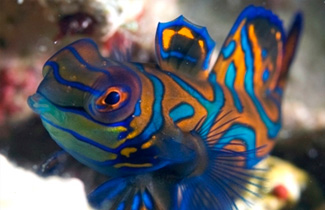 Dining
A delicious and sumptuous meal served in buffet style at the open central restaurant.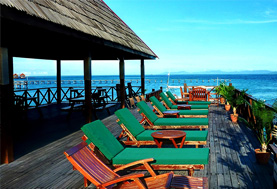 There is a large sundeck sitting area perfect for sipping a drink while enjoying the tropical sunset.
Other facilities
Other resort facilities includes the dive centre which provides diving, snorkeling and kayaking equipment for rent, broadband internet access, a souvenir shop and game room.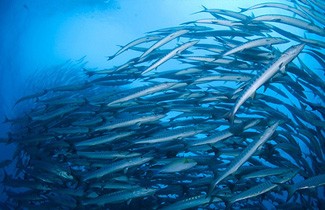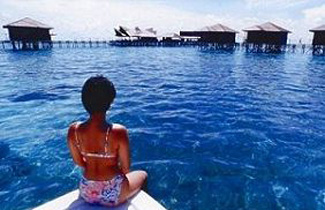 Note: Please book for Sipadan long in advance.

Customer Reviews & Ratings

"My wife and I really enjoyed staying at Kapalai. The view from our spacious over-the-water chalet is like paradise. The staff is very friendly and well organized and everything runs perfectly. " Zhang Qiu, Beijing, China
"We loved this beautiful resort! The friendly staff provided excellent service from the airport to the resort and back. Excellent dive shop, with professional divemasters who went out of their way to show us a lot of rare marine life underwater." Laura Bennett, Cairns, Australia
"Fantastic! Sipadan-Kapalai Resort is so beautiful like it is out of this world. In addition the buffet food was delicious with plenty of variety and the staff always had a smile and was helpful. The diving at SIpadan was incredible." Wang Shan, Hong Kong
"The resort crew really took care of us. It was really nice to see turtles and fishes below our balcony. The DMs were very good at spotting macro critters such as the flamboyant cuttlefish. Our chalet was beautiful, clean and comfortable." William Parker, Brighton, England
"Our stay at Kapalai was really unforgettable. Everyone was so helpful and friendly. The buffet meals were great and we would definitely stay there again." Joshua Wang, Taipei, Taiwan
"As soon as our boat arrived at Kapalai, it was like paradise with magnificient views and superb service. Note that most of the guests were Chinese and non-chinese were only 5-10%. The resort staff were very friendly, helpful and treated us very well." Cynthia Rogers, San Francisco, United States
"The welcome on arrival at the Kapalai jetty is a perfect starts to a magical holiday. There were only a few non-Chinese guests. The sea is crystal blue, with turtles everywhere swimming below the our balcony! We went diving at Sipadan and this is really one of the best dive destination in the world." Hans Diemer, Rotterdam, The Netherlands
"We were on a honeymoon at Kapalai and stayed for 6 days and 5 nights. The resort is like paradise, the buffet food is delicious, and the views of the sea are breathtaking. The diving at Sipadan was really the best of my life." Kelly Ward, Christchurch , New Zealand
"Food is buffet style. The resort is mostly for the China market and most of them are snorkelers. The staff is really friendly and always helpful. Wifi was only available at the office. The chalets have only fan and no A/C but it was not hot as there was a breeze. The resort felt really safe as it is protected by the army base." Clarence Lee, Johor, Malaysia